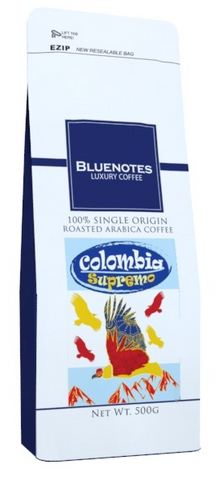 Bluenotes ARABICA COLOMBIA 250 grams
Colombia Supremo
---
Long been synonymous with amazing coffee, this coffee's aroma alone will arouse you to your senses. Subtle tones of berries and nuts will tantalize your nose, while carrying a rounded body. Reminiscent of fruit compote: sweetness, spiced fruit. The cup is both lively in the bright, top-end notes of black cherry, but balances itself out with dense body, and intensity from initial sip through long aftertaste.

100% SINGLE ORIGIN 
ARABICA COFFEE
---
Throughout history, Europeans have dominated the global premium coffee industry – we have long assumed that excellent coffee grows abroad and can only be roasted the right way far from home. Today, that assumption could not be further from the truth as the dynamic Philippine coffee culture is being revolutionized by homegrown coffee experts.
After years of mastering the art of roasting, Conlins Coffee Company is a local business that prides itself in providing Filipinos with the highest quality coffee beans. Rooted in a passion for great coffee, Conlins is fully dedicated to supplying beans that are simply above par and nowhere is this dedication more evident than in its latest line of first-rate coffee beans – Bluenotes.
October 02, 2019
---
We Also Recommend
---