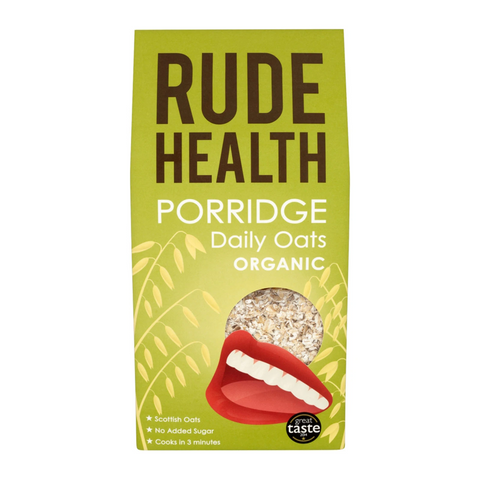 Rude Health Daily Oats 500g
Rude Health Daily Oats 500g
To make our oatmeal Rude Health blends the creamiest Scottish oats with irresistibly soft fruit chunks, roasted nuts, crunchy seeds and nutritious grains.
A Blend of the Finest Oatmeal Oats and Jumbo Oats. Get your oats every day… and you'll glow with satisfaction. We mix the finest oatmeal oats with hearty jumbo oats to give you the perfect combination of creaminess and texture. Hedonists can add milk, fruit or honey for a decadent experience, and hard-core fans will love it with water and a pinch of salt. However you enjoy it, we guarantee you'll be feeling rudely healthy all day.
High in Fiber
Dairy Free
Wheat Free
No Refined Sugars
Non-GMO
Kosher
Ingredients:
Oatmeal Oats, Jumbo Oats.
Allergens:
Made in a facility which handles nuts.
Nutrition
*per serving
per 100g
Energy
175 kcal
350 kcal
Protein
5.1g
10.2g
Carbohydrates
31.4g
62.8g
     of which sugars
0.5g
0.9g
Fat
3.2g
6.4g
     of which saturates
0.9g
1.7g
Fiber
4.6g
9.1g
Sodium
trace
<0.05g
*per 50g oatmeal
---
We Also Recommend
---