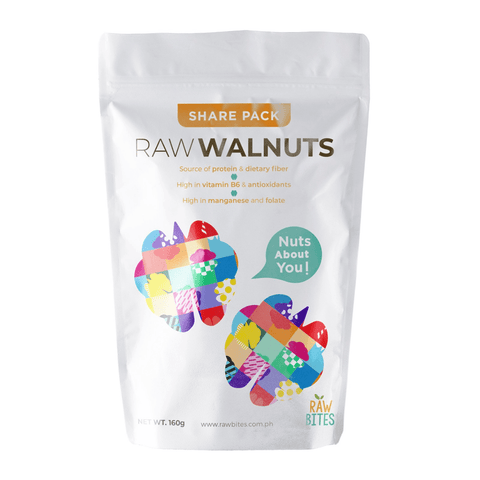 Raw Bites Raw Walnuts 160g
Walnuts are a very popular nut and an excellent source of the omega-3 fatty acid alpha-linolenic acid (ALA). A one-ounce (28-gram) serving of walnuts contains roughly:
Calories:

 

182
Fat:

 

18 grams
Protein:

 

4 grams
Carbs:

 

4 grams
Fiber:

 

2 grams
Vitamin E:

 

1% of the RDI
Magnesium:

 

11% of the RDI
Walnuts appear to improve a number of heart disease risk factors, which may be due to their high content of ALA and other nutrients.
Several large studies have found that eating walnuts significantly reduced total cholesterol and "bad" LDL cholesterol while increasing "good" HDL cholesterol levels. They may also improve other factors related to heart health, including blood pressure and the normal flow of blood through your circulatory system (34, 35).
In addition, walnuts may help reduce inflammation, which can contribute to many chronic diseases.
---
We Also Recommend
---