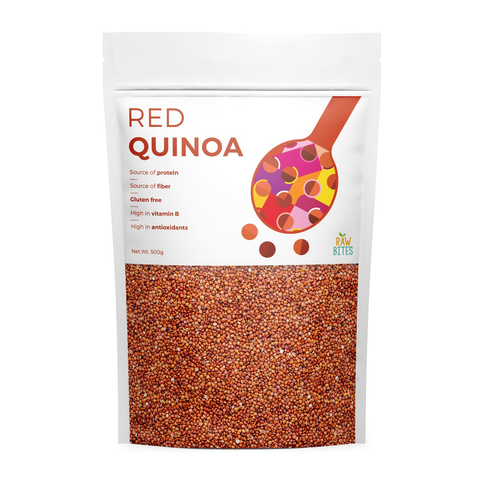 Raw Bites Red Quinoa 500g
Our Organic Red Quinoa is as delicious as it is gorgeous! The nutty flavor, fluffy, crunchy texture and dramatic color of this quinoa is a wonderful addition to a gluten free diet and can be used in salads, soups, baked goods and more.
Red quinoa is native to South America. It's actually a gluten free seed, but used in cooking like a whole grain. Red quinoa is delicious on its own and in pilafs, soups and salads; the beautiful color elevates even the simplest dish. You can also eat cooked quinoa as a hot cereal as an alternative to oatmeal—add your favorite milk, sweeteners and toppings for a protein-rich breakfast. 
Make it in a rice cooker: use 1 part quinoa to 2 parts water.
| | |
| --- | --- |
| Nutrition | per 47g (1/4 cup) |
| Energy | 170 kcal |
| Protein | 6.0g |
| Carbohydrates | 35.0g |
|      of which sugars | 1.0g |
| Fat | 1.5g |
|      of which saturates | 0g |
| Fiber | 5.0g |
| Sodium | 0g |
---
We Also Recommend
---