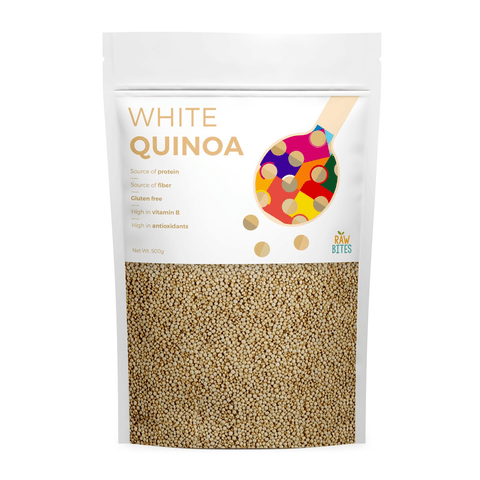 Raw Bites White Quinoa 500g
Organic White Quinoa Grain is one of our favorite ancient grains, honored as a sacred crop by the ancient Incas. Whole grain gluten free quinoa has a nutty flavor and is delicious in pilafs, salads, soups and stir fries. It's also a good source of iron and offers high-quality protein.
The mild flavor of quinoa makes it ideal for pilafs, soups and salads, and it takes very little time to prepare. It's a nutritious alternative to couscous and white rice in many recipes. Why bring a boring side to your next potluck? Mix quinoa with dried fruits and spices for a simple yet exotic salad. 
Make it in a rice cooker: use 1 part quinoa to 2 parts water.
| | |
| --- | --- |
| Nutrition | per 47g (1/4 cup) |
| Energy | 170 kcal |
| Protein | 6.0g |
| Carbohydrates | 32.0g |
|      of which sugars | 1.0g |
| Fat | 1.5g |
|      of which saturates | 0g |
| Fiber | 5.0g |
| Sodium | 0g |
---
We Also Recommend
---